Image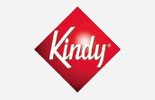 Corps
June 2008
Kindy has chosen the Optimails service of Secuserve
Since June 2008 the Kindy Group has been outsourcing its messaging system to Secuserve and its managed security service: Optimails.
Overview
The hosiery Davesne was founded in 1863 and became a S.A. (a limited company under French law) in 1922. It created the brand name Kindy in 1966. This was a turning point in the history of the company; it decided to sell its products via mass-market retailers. In 1985 the group became French leader of socks manufacturing. More recently, in 2006, it continued its external growth with the acquisition of the Blanchard Company's assets (the Thyo brand name) and the takeover of GBB, specializing in children shoes.
Kindy is now a group employing 400 people and gathering companies like Kindy, Mariner, GBB and BSS, which are renown on their respective markets.
The existing system
Few years ago the IT department of the Kindy Group decided to outsource the messaging system of the entire group. The main objective was to focus on the company's business software and on the setting up of a Generix ERP, which gathers the purchasing, sales, logistic and accountancy business software of the group.
Other factors such as slow data access rate on some links and lack of resources to dedicate to its internet communication have been decisive when choosing to outsource messaging services. After trying the services of a regular provider IT managers of Kindy soon realized that messaging system has become the most critical and essential web application.
The challenge
Number of threats has dramatically increased: Virus, spam, confidential information, content being illegal or not for professional purpose. Production requirements entail a constant internet connection, mobility and access to information from everywhere and with any device (computer, Smartphone…).
Kindy currently has 240 mailboxes the installation of which has not disturbed Kindy's employees. To face the constantly increasing number of emails and the evolution of spam the Optimails service offers a reliable messaging service. Above all, it blocks spam on Secuserve datacenters, which prevents bandwidth saturation. This is all the more important as around 40 employees are using PDAs and around 30 managers are frequently on business travel with laptops and do not always have decent broadband access to the internet.
After a technical benchmarking the Kindy Group chose the secure messaging service offered by Secuserve: Optimails.
The solution
Secuserve is the first French company to offer managed email security and cloud messaging services. The Optimails service offers a highly available and secure cloud messaging system.
For the Kindy Group it was necessary to find a service that would provide better security, availability and more features than the former service they had. Regarding security, Optimails includes e-securemail: the email security service. E-Securemail provides upstream protection to the company network against viruses, spam and any other threats related to emails.
The outcome
E-securemail offers optimal protection. Thanks to its 4 anti-virus engines it is 100% reliable. The anti-spam filter, which combines 16 different technologies, really reduces the number of received spams. The statistics below shows that, for Kindy, the number of emails rose in one year from 200,000 to 1,200,000. Only 7.04% of these emails meet the protection settings of the company (June 2008 – statistics from Kindy's online administration console).
"Besides spotless service continuity for more than two years anti-virus filtering is excellent. And we did not suffer from email virus infection. Moreover, anti-spam filtering is constantly evolving and adapts very quickly to new kinds of spam" says Nathalie Seguinot, head of the IT Department for Kindy.
Thanks to Secuserve Kindy also saves money: A study on a three-year project of about 100 mailboxes showed there was a financial advantage to outsource messaging service. Investments related to hardware, software, security solution, maintenance services and personnel training as well as the time dedicated to managing the system are worth 250 € per mailbox per year. Basic Optimails service only costs 60 € per mailbox per year.